Introduction
The department of dental surgery provides both patient care as well as academic program in various fields of dentistry. Presently, the department is providing treatment like filling and root canal treatment, extraction, major and minor surgical procedures, treatment for gum diseases with scaling and gingival surgeries. The department also provides treatment for replacement of missing teeth in the form of removable partial denture, complete denture, fixed teeth, crown and bridge work and artificial prosthesis, e.g., eye, ear, nose, finger, obturators etc. Apart from diagnosis, it also provides dental X ray services like IOPA, occlusal view, OPG and lateral Cephalogram. As per the prerequisite for MDS Periodontics and Prosthodontics, department has started implantology service from Asadh 2068. The department is headed by Prof Dr Sarita Joshi.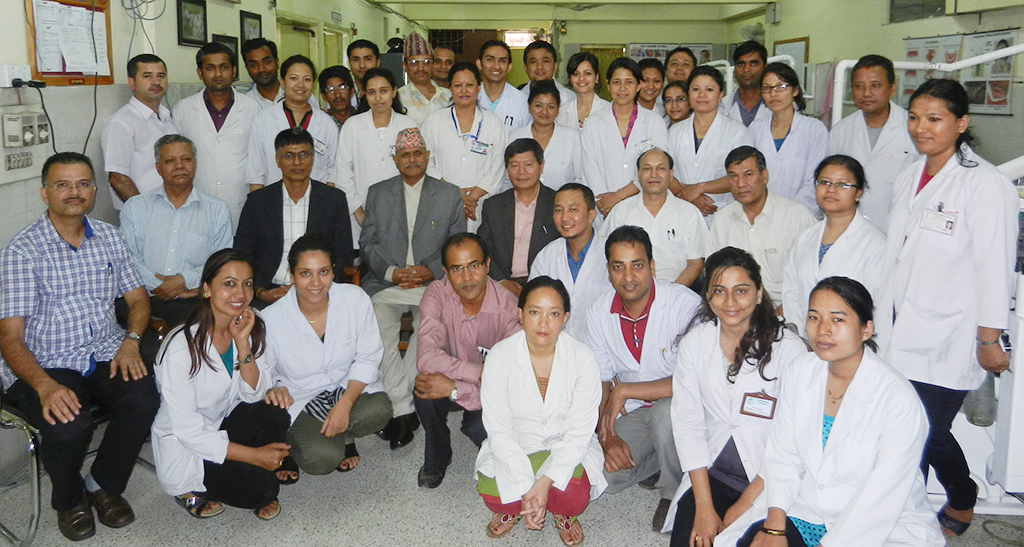 Services Provided by the Department of Dental Surgery
Oral Medicine and Radiology: New patients and old follow up patients are first examined in this department and referred to respective department as per the need of the patient.
IOPA and OPG X rays are carried out.
Conservative and Endodontics: Restorations and root canal treatments are done.
Oral Surgery: Extraction, impaction and minor surgical procedures are carried out. Once a week, major surgical procedure is carried out in major OT of the hospital.
Orthodontics: correction of malaligned teeth is done. Also post graduate program MDS (Orthodontics) is running with two residents.
Prosthodontics: Replacement of missing teeth, crown and bridge, obturators are done.
Periodontology and Oral Implantology: Scaling and treatment of gingival diseases are done. Dental implants are placed for replacement of missing teeth.
Academic program:
NAMS has established its own postgraduate program in various faculties including various fields of dentistry. This has been a great achievement with NAMS being the first institute to start a program of such kind in dentistry in Nepal. Though there are more than 1700 dental surgeons registered in Nepal Medical Council, there was no postgraduate program in the country till NAMS started MDS in Orthodontics in the year 2065 under able guidance of Prof Dr Praveen Mishra, with two candidates. In the year 2066 two more specialities in dentistry i.e., Periodontics and Prosthodontics started with one intake each, giving way for the graduates in their own country for post graduation. Before this program every dental graduate had to go abroad to do post graduation. MDS Periodontics is co-ordinate by Prof Dr Shaili Pradhan and MDS Prosthodontics by Prof Dr Sarita Joshi. This postgraduate program has undoubtedly upgraded the standard of dental care and treatment in the department.
Altogether 2 have completed MDS in Orthodontics, 4 in Periodontology and Oral Implantology and 3 in Prosthodontics from NAMS till 2014.