Introduction
Bir Hospital is the oldest hospital of Nepal. This hospital was established in 1947 BS, under the name of contemporary Prime Minister Bir Shamsher Jung Bahadur Rana. Initially it was a seven bed hospital with 5 staffs. Today it has a proud history of 125 years and the first hospital of Nepal wherethe practice of modern medicinecommenced.Till eighties services including gynaecology, paediatrics and psychiatry were available in this very hospital. With the evolvement of super specialtyand increasing workload in the limited premises these services were shifted to Indra Rajya Laxmi Devi Shah Maternity hospital Thapathali, Kanti Bal hospital Maharajgunja and Patan mental hospital Lalitpur respectively.
This is a historical hospital as every modern medical service in the country has roots in this hospital. This is the first hospital where neurosurgery was started in the times when CTscan was not around. In the field of modern cardiology Nepal's first case of angiography, cathlab and valve replacement were all done at Bir Hospital. Every senior doctor who was a pioneer in the field of modern medicine in Nepal like Dr. Mrigendra Raj Pandey, Dr. Anjani Kumar Sharma, Dr. Dinesh Nath Gongal, Dr. Shabitri Gurung, Dr. Dibyashree Malla, Dr Sudip Kumar Bhattacharya, Dr. Mohin Shah, Dr. Puskar Satyal, Dr. Ishor Lal Acharya, Dr. Dhrub Lal Singh, Dr. Dambar Bahadur Karki, Dr. Sachche Kumar Pahadi, Dr. Dharma Sharan Manadhar, Dr. Ram Prasad Pokharel, Dr. Yanta Mani Pradhan, Dr Ram Bhadra Adiga, Dr. LN Prasad, Dr. JP Rijal, Dr. Jwala Raj Pandey, Dr. Basant Lal Shrestha, Dr. Gopal Achary, Dr. Hemanga Dixit, Dr. Shankar Bahadur Shrestha, Dr. NB Amatya, Dr. Laxman Paudel hadstarted their careers in this hospital. These pioneers are the heroes and the legends of modern medicine in Nepal. Bir hospital is the central hospital where services were provided the royal family members in past.
Similarly Bir hospital provided medical education to different levels of health personnel as per the needs of country. Starting with simple wound dressing and compounder trainingmiddle level health personneltraining for health assistants was started in 2014 BS, in the name of Civil Medical School.This training was continued till 2018 BS. Similarly, nursing education started in 2013 BS and Mrs Rup Kumari Gurung was the chief of nursing school. This hospital was used for the clinical practice by Institute of Medicine, Tribhuwan University, for their courses of Auxiliary Health Worker, Health Assistant and graduate medical education. In 2035/36 BS this institute was accredited by Royal college of Edinburgh as centre for training for fellowship in surgery and membership in Medicine. This was an era of commencement of postgraduate education in Nepal. From 2035 BS to 2050 BS no government scholarship was provided for postgraduate education in Nepal. There was a big gap between undergraduate and postgraduate doctors. It was realized that the post graduatemedical education should exist in Nepal only. This led to the formation of postgraduate medical education coordination committee (PGMECC) in 2051/52BS by the valley group of hospitals. In 2059/60 BS concept of National Academy of Medical Sciences (NAMS) was born. National Academy of Medical Sciences was establishedin 2060 BS (2002 AD) and started course of MD and MS. Bir hospital is an embodied hospital of NAMS. NAMS has taken Maternity Hospital Thapathali, Kanti Children Hospital Maharajgunj, Nepal Army hospital, Patan Hospital and Nepal eye hospital as affiliated hospitals for the program. Under the memorandum understanding with these hospitals programs are running. Currently, this institute is enrolling around 100 MD, MS and MDS residents each year. Similarly superspecialty fellowship course on neurosurgery, Fellow of national academy of medical sciences (FNAMS), was started in 2061 BS (2004 AD). In addition, Doctorate of Medicine and Master of Chirurgery (DM, M.Ch) started in 2067 BS (2010 AD).
Historically, nursing program started in 2013 BS in the name of Mahabaudha Nursing College. With advent of new education system in Nepal Mahabaudh nursing college was put under the Tribhuwan University in 2028 BS. Then this program was shifted to Institute of Medicine Maharajgunj in 2044 BS. In 2046 BS nursingprogram was restarted in Bir hospital with the affiliation to Tribhuwan University. With the establishment of NAMS in 2060, nursing program came under the NAMS. In 2062 BS Post Basic Bachelor course in Nursingwas started and now we are at the verge of starting Master of Nursing program.
Objectives of National Academy of Medical Science:
As mentioned in the preamble (2063) of the NAMS, there are three major objectives
To provide higher education in the field of Medicine.
To produced skilled and knowledgeable human resources for the treatment of general people.
Source of Research in the field of health sciences in the country.
Vision
To be a leader in the field of quality medical educationand to produce a high skilled human resource for the nation this Academy will play a pivotal role. To upgrade different strata of health institutes of Nepal and to provide quality health services to everyone.
Mission
Develop the institution into a centre of excellence for higher education and medical services by enhancing teaching, learning and research activities. To fulfill the growing demand of human resources for the country and contribute to the national health policy Expansion of teaching, learning and research activitiesto Regional, Sub Regional and Zonal levels.
Major Activities
Bir Hospital is located in the heart of the capital city of Nepal, Kathmandu. This hospital has an easy access for the general population. It is an embodied hospital of National Academy of Medical Sciences. Daily out patient load is around 1500. It is the central government hospital with a total 460 bed capacity. The bed occupancy rate is 79%. Mortality rate is 6.5 % and infection rate 1.75%. Annually around 5000 operations are conducted. Average hospital stay is6.5 days.(Annual report of Bir Hospital 2070/71 BS).
This hospital has 72% free beds. Under special circumstances the remaining beds also become subsidized or free.
Long-term goal
Bir Hospital will be centre for academic excellence and remain as a central referral hospital of government of Nepal. This hospital will be upgraded to 2000 bedded hospital with VVIP and VIP suite sand will be a world-class hospital. A master plan has already been finalized.
NAMS will be APEX University and academic epicenter under the Ministry of Health and Population. Academic activities will be expanded up to the Zonal and certain District level hospitals of the country. Conceptual NAMS has been published, which is mentioned below: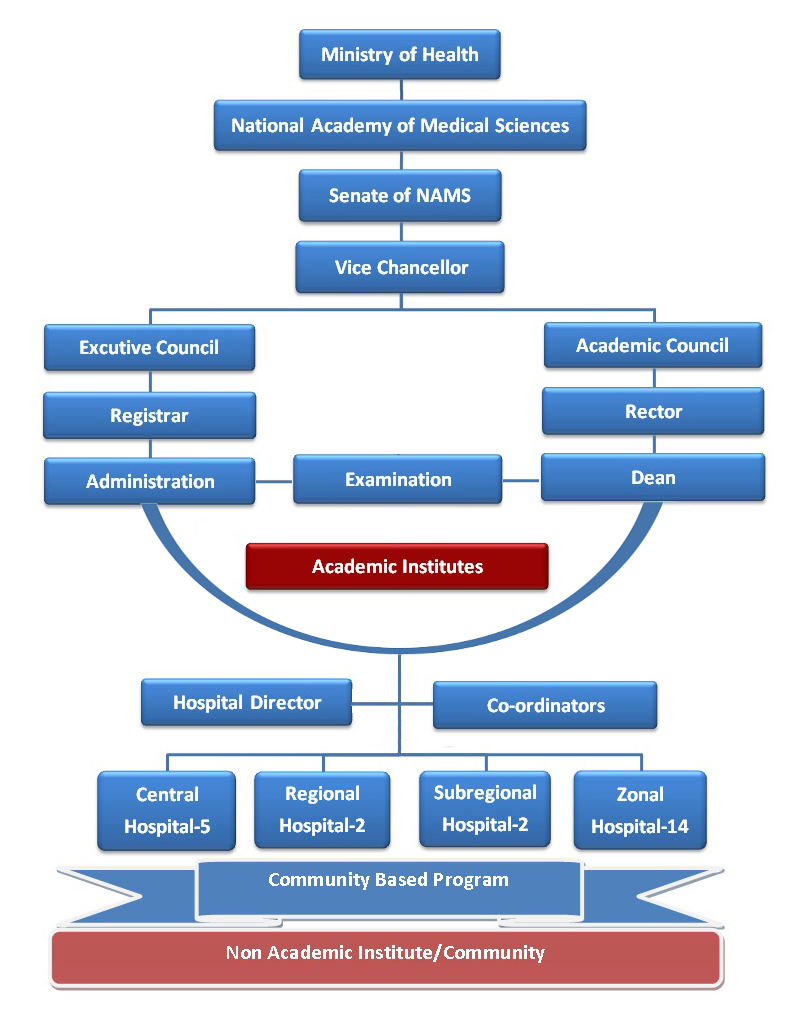 Central, Regional, Sub regional and Zonal hospitals will be the academic centres under the affiliation of NAMS. These hospitals will the right to take residents and request for the faculty accreditation. NAMS as an Apex university will do followings:
Common intake and exit examination.
Accreditation of faculty position and hospital facilities for academia.
Evaluation and monitoring of academic activities and grading of Institute.
Monitoring and evaluation of the medical research activities to faculties and residents.
Certification of the residents.
Formulation of health policy with cooperation of government.
For the standardization of academics as well as quality medical service NAMS will act as a pivotal body.
Short-term goal
Our short term goal is to boost up the academic activities and improve the service quality in order to reach the level of excellence. The VVIP and VIP treatment suites are under construction. Hospital modernization with latest medical equipment is of utmost importance. Upgrading Laboratory, Radiodiagnosis services, Emergency service, ICU and CCU are in the top priority. Operating theatres are to be renovated. Resident rooms will be well maintained. For the close monitoring and evaluation of academic activities and teachers special provision is going to be made soon. To facilitate the academia better internet facilities along with number of journals, periodicals and text books will be increased. Class rooms will be better equipped.
Finance
This Institute is financially fragile and unable to self sustain with due to various constraints. Financial support is mainly from ministry of health and population. Other sources of income are income generated from hospital services and students' fee.
As this is mostly a free hospital and the charges, when applied, are also nominal internal income generation is limited. As far as the students' fee is concerned all the candidates from ministry of health do not have to pay fee and for others the fee is nominal. In order to make up for the deficit increment in government grant, service extension and extended health services are urgently required.
Outcome of NAMS
Since the establishment eight hundred and eighty six students have enrolled and five hundred and twenty students have already passed the final exams till date. Out of them more than 50 are from SAARC countries mainly Maldives, India, Srilanka and Bhutan. Similarly thirteen DM, M.Ch students have completed the final exams and currently twenty four are enrolled in the course. Around 200 post basic nurses have completed final exams. Besides the thesis more than three dozen of original research papers have been published in indexed journals of Nepal.